Human Genome Variation Meeting 2008 Review

By Janet Buchanan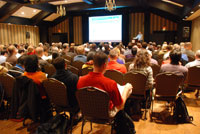 The Centre for Applied Genomics played host in October to the 10th Human Genome Variation Meeting in Toronto, Canada. From its origins as a small workshop entitled "SNPs and Complex Genome Analysis", this international forum has evolved to accommodate larger population studies, the more recently discovered copy number variations (CNVs) and next-generation sequencing, with a change to the more inclusive title (in 2006), and grown to about 240 registrants in 2008.
On behalf of the organizing committee, Dr. Stephen Scherer welcomed the representatives of 34 countries, reminding them of the participatory nature of the gathering and that the agenda's lack of presentation titles was intended to encourage "hot data".
Over three days, in eight sessions with 38 speakers, and close to 100 poster presentations, this expectation was well satisfied. Dr. Svante Pääbo provided the keynote address "Genome Evolution", focusing on work to delineate the Neanderthal genome.
For the first time, appended to the meeting was a public forum, "Personalized Medicine: Are we ready?", in which a diverse panel of professionals from business and academic sectors presented views on the issue of direct-to-consumer genetic testing, followed by questions from the audience of about 500. In closing the conference, Dr. Scherer highlighted the "global village" direction this field is taking, and the integration of multiple disciplines in its approaches to human genome variation.
Photo Galleries